Build Your 4D Number Plates
4D number plates are the current premium trend in the number plate marketplace.
Our plate builder allows you to create any road legal 4D number plate you desire, with raised digits made of black acrylic bonded to the surface of the plate instead of being printed.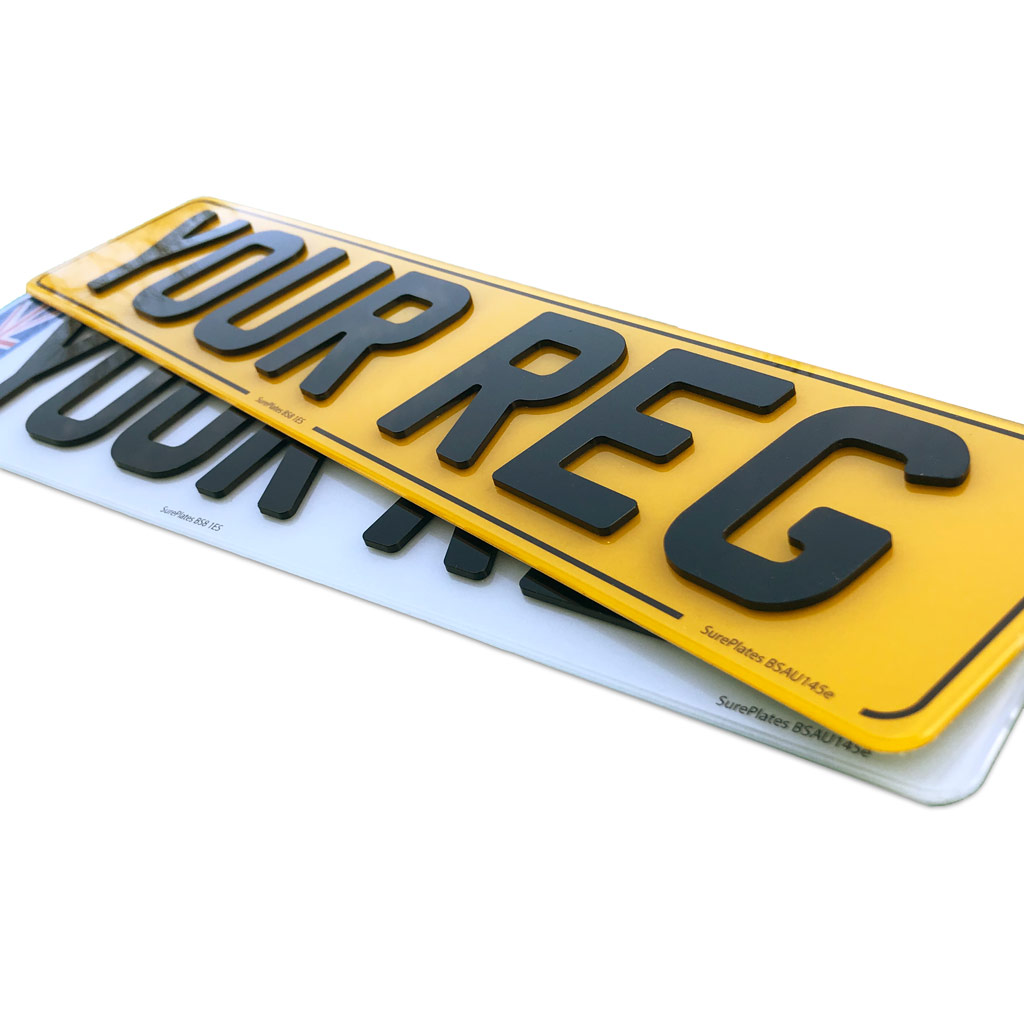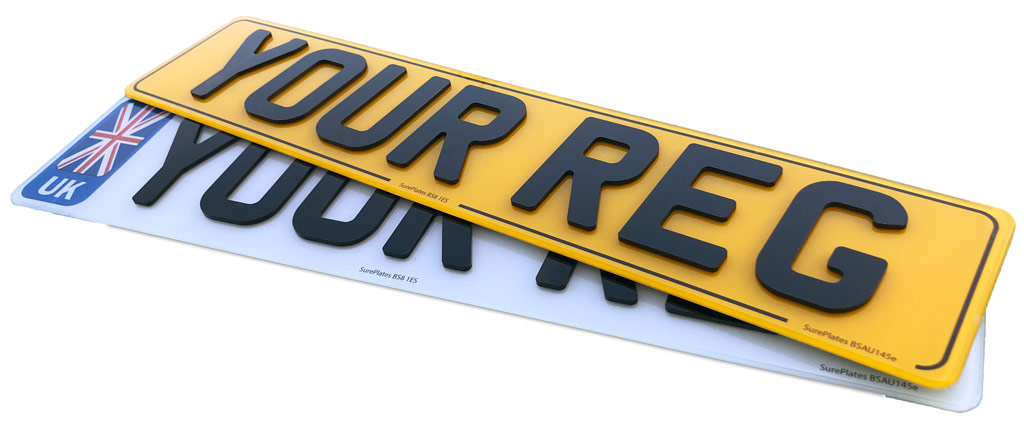 Introduction to 4D Number Plates
4D plates are the current premium trend in the number plate marketplace. These plates feature fully 3D (AKA "4D") acrylic digits that make your car pop with character.
They're available in 3 mm and 5 mm thicknesses. They can also be combined with gel digits to make 4D gel plates.
Furthermore, 4D digits are suitable for use on all plate sizes & shapes, they aren't limited to standard oblongs. They can be used on any vehicle of any age.
Many people ask the question: "are 4d plates legal?" The answer is a resounding "yes". Regulating authorities all agree on this point. Here's the proof:
4D plates comply with all the rules and regulations that any number plate must comply with. This includes legislation and the British standard.
Check out our ultimate guide to 4D number plates infographic.
Customising Your 4D Plates with SurePlates
We've taken the time to craft a unique & intuitive number plate builder that rivals any on the market.
Our plate builder boasts both 2D and 3D live interactive previews. You can customise every part of the plate that is customisable, while the builder makes sure only to produce road legal plates.
We have a detailed guide on how to use our plate builder that you can refer to if you don't understand something.
So what's available to you?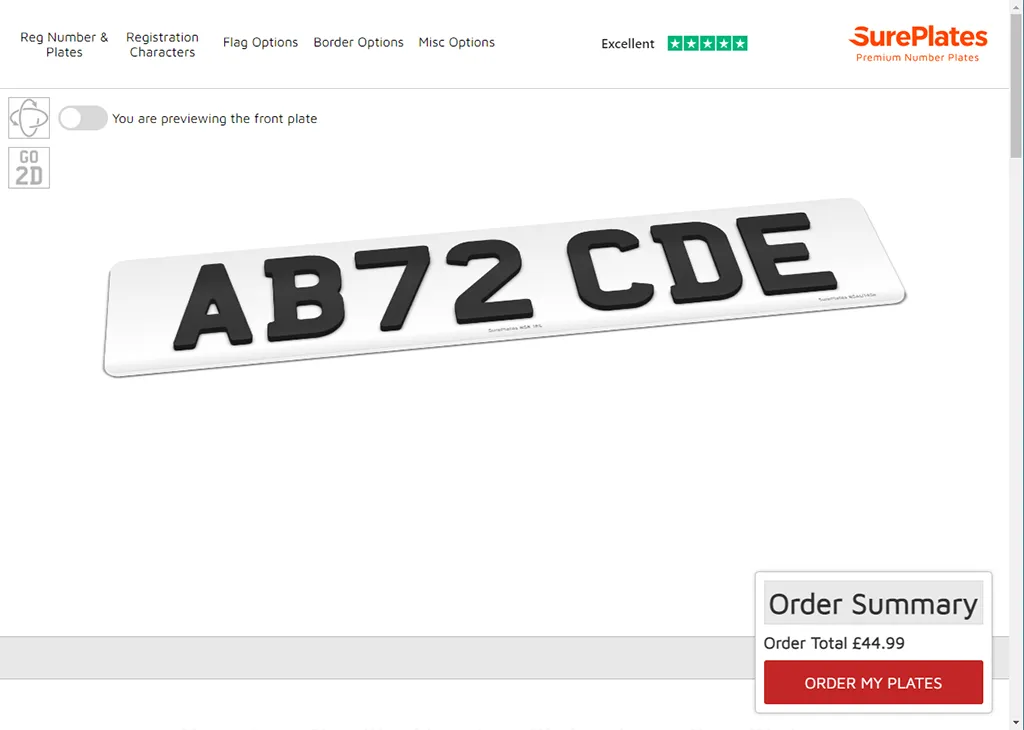 Choose your plate sizes
Several plate sizes are available, including those most common to the UK market. The standard oblong, 4X4 square, and oversized oblong.
Standard oblong makes up over 90% of plates on UK roads.
Enter your registration
No matter when your reg number was originally issued (whether it came with the car or you bought a private plate), it follows a special pattern.
Our builder will automatically detect this and space your registration number correctly and legally.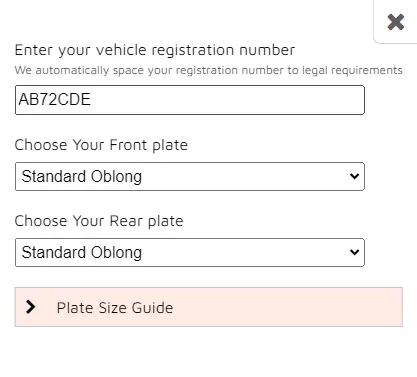 Choose your 4D digits
Select the option for 4D characters, then use the character thickness slider to pick the thickness (3 mm or 5 mm) you like.
Your preview will update instantly.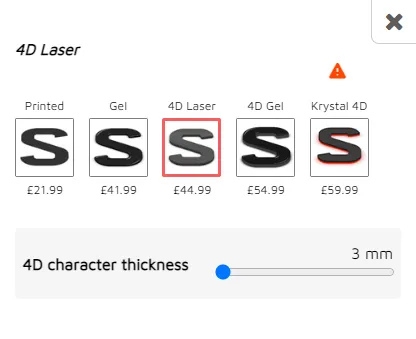 Choose a border (optional)
Number plates can display an optional border. Our builder gives you fine control allowing the thickness, radius, and colour to be customised.
Choose a thickness you like — from 1 mm to 4 mm
Set your corner radius — from 6 mm to 10 mm
Set the "style" of the border — place the legal markings inside the border (gaps in the border) or have them above it (no gaps)
Decide what colour the plate markings should be — the same as the border, or black.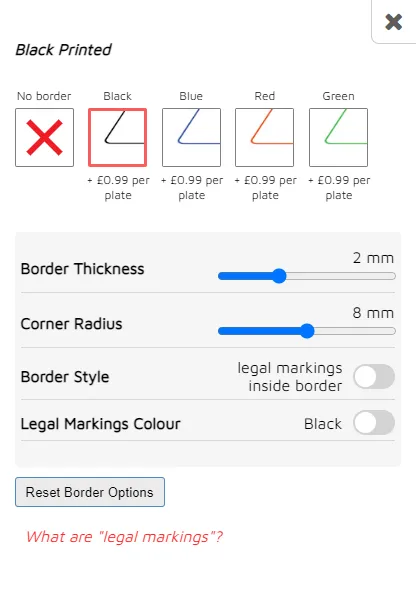 Choose a flag (optional)
Flags are another optional customisation available to number plates.
Each flag displays the country code and is available in 2 variations: a horizontal version and a vertical version.
For electric vehicle owners, the optional green EV strip can be added as well.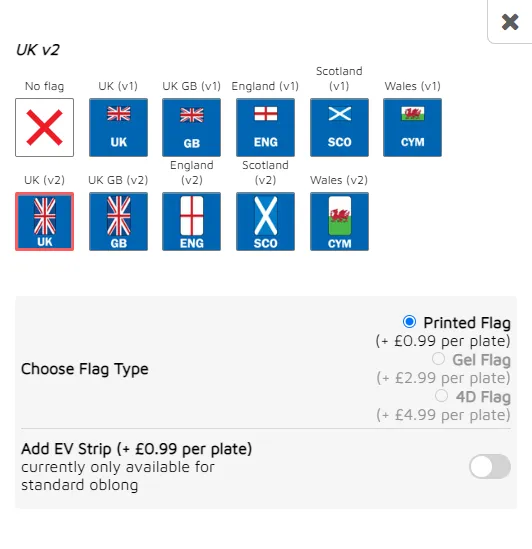 Frequently Asked Questions about 4D Plates
What are 4D number plates?
4D number plates are number plates that feature true 3-dimensional digits. 4D digits are made of acrylic or aluminium and are bonded to the surface of the number plates. For more information, see our post what are 4D number plates?
Are 4D number plates road legal?
Yes, 4D number plates are road legal. They meet the requirements of the British standard and The Road Vehicles (Display of Registration Marks) Regulations 2001.
Where can I get 4D number plates?
Our number plate builder can create 4D number plates in both 3 mm and 5 mm thicknesses. Our powerful & intuitive plate builder can create thousands of combinations of number plates.
Customer Reviews and Feedback
Our reviews speak for themselves, and we're proud to show off a 4.9 / 5 star review rating over thousands of reviews.
While we don't make focussing on reviews a core part of our business, we do ask for them from our customers once their orders are complete.
Instead we focus on providing great quality 4D number plates and providing excellent customer service, and let the feedback speak for itself.
Feel free to browse our now 500+ strong list of reviews, of which 99% are positive and verified as genuine by Trustpilot, the worlds largest independent business review website.
Visual Gallery of 4D Number Plates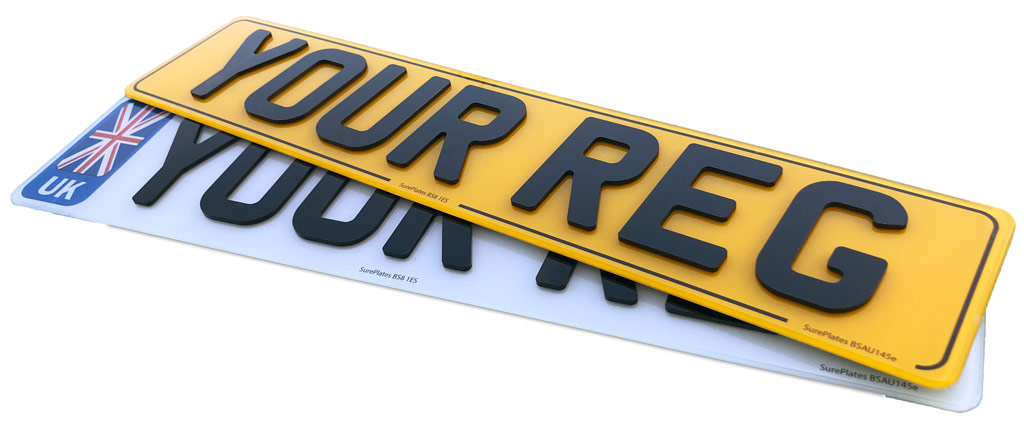 Why Choose SurePlates for Your 4D Plates?
Quality is our main priority. Our production meets an exceptional standard of quality every time we make a plate. No expense has been spared on equipment, training, and people. So if you are not happy with your plates you can return them for a full refund. We don't quibble. We accept returns within 14 days of receipt — this is our guarantee.
Options matter, even in such a basic product as a number plate. Not only is our plate builder highly versatile, we've also made sure everything is customisable.
Simplicity is a key focus in our business. We've made it easy for our customers to get what they need as fast as possible. Our number plate builder is so simple even a toddler could use it. You can build your plates in minutes and get back on with your day.
We're now giving away free fixings with all orders. From 2022, fixing kits now also come with a total of 9 sticky pads, 4 pozidriv screws with screw caps to match (2 x black, 2 x white, and 2 x yellow).
Fast and Reliable Dispatch and Tracking
We'll send your dispatch information by email as soon as we post your order. Live order tracking is also available via the order tracking page.
We send all orders the same day, with a 3PM cut off time in place. Delivery then takes between 1 – 3 working days, depending on the service you choose.
Faster services are available for when you need your plates quickly. The available services are:
Economy — Untracked with a signature on delivery. 2 – 3 days.
Tracked 24 — Fully tracked with proof of delivery. 1 – 2 days.
Special Delivery Guaranteed By 1PM — Fully tracked guaranteed 1 business day service with proof of delivery.
Rarely does an order go missing. But we're happy to cover you with either a replacement or a full refund in the unlikely event that it does.
If your plates have not arrived within the estimated time, then head over to our contact page. Get in touch with one of our agents and we'll take it from there.
Additional Benefits of Choosing SurePlates
Speed is paramount, which is why we dispatch orders the same day if they're in before 3PM.
Guarantees are vital. We'll cover your plates for 2 years by as standard. If they fail in this time, just get in touch and we'll replace them for you — free of charge.
Peace of mind is something we all want when buying online. Our systems are mostly automatic, and production is both accurate and fast. We'll also send you an email at each step of your order, from receipt to production to dispatch.
Expertise is the name of our game. As well as high quality production methods, our team has expertise in the law, the user experience, software development, and website usability, among other things.
Customer service that is second to none. We have friendly, helpful, and efficient staff on hand to assist with any issues you have. We resolve most queries within minutes.
Prices that makes sense. Our cheap 4D number plates are of a superior quality because we manufacture components in-house, allowing us to drive the price down compared to our competitors.
Wrapping Up: Why SurePlates is Your Best Choice for 4D Plates
Our unique & intuitive plate builder is easy to use and will only produces road legal number plates.
Our processing time of approx. 2 – 4 working hours allows us to get your order to you fast. We're open 7 days a week for production, while our customer service lines are open from Monday to Friday.
We've invested our time and money in modern equipment including several high spec laser graphics printers, UV printers, and many automated production methods.
Because of this, our operation is smooth and reliable. This enables us to offer a very high quality service to every one of our customers.