Build Your Number Plates Now
High quality 3D gel number plates can be made and customised using our number plate builder. Our unique and intuitive plate builder comes with more options and features than any other company.
We confidently guarantee our products for 2 years. This covers peeling, water ingress, fading, and (for 4D plates) digits coming loose or falling off.
Our plates comply with the British standard, and our plate builder will only make road legal plates. Your reg number will be spaced automatically to guarantee road legal plates every time.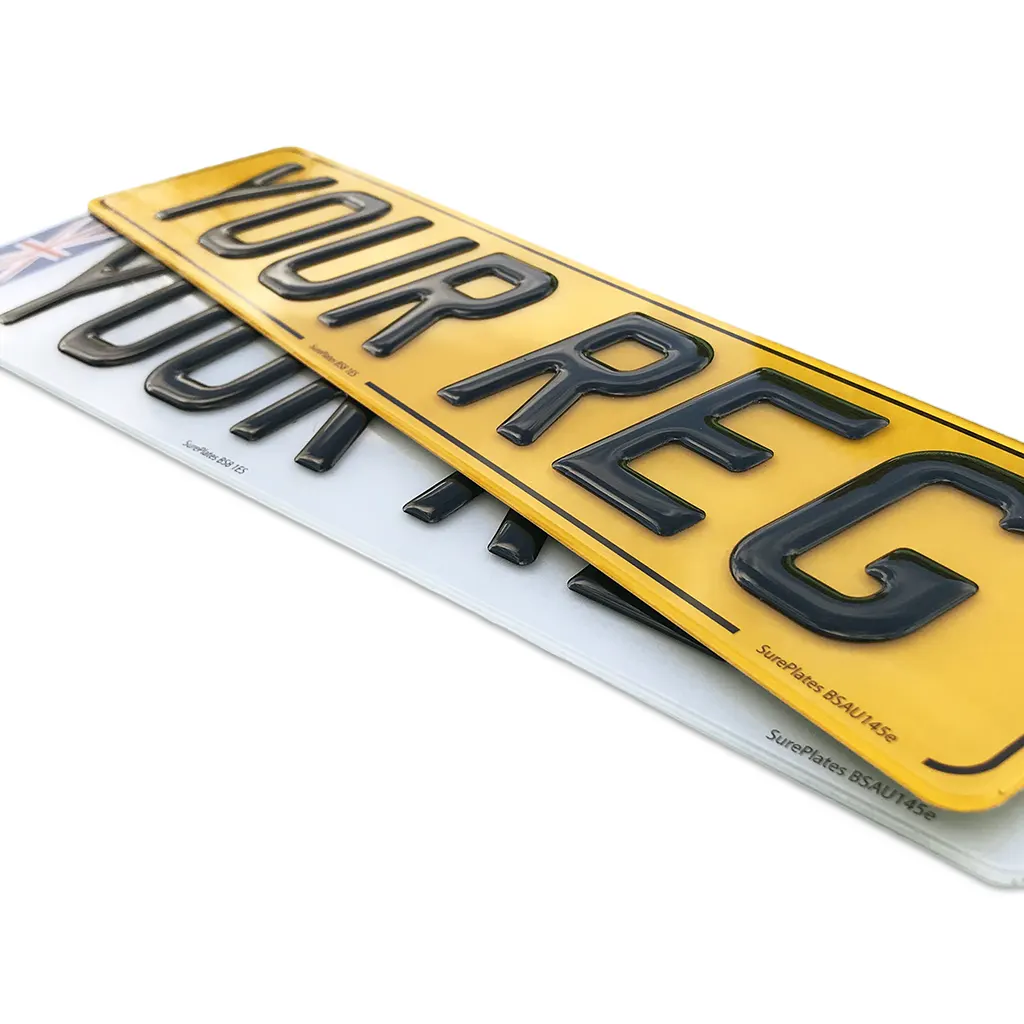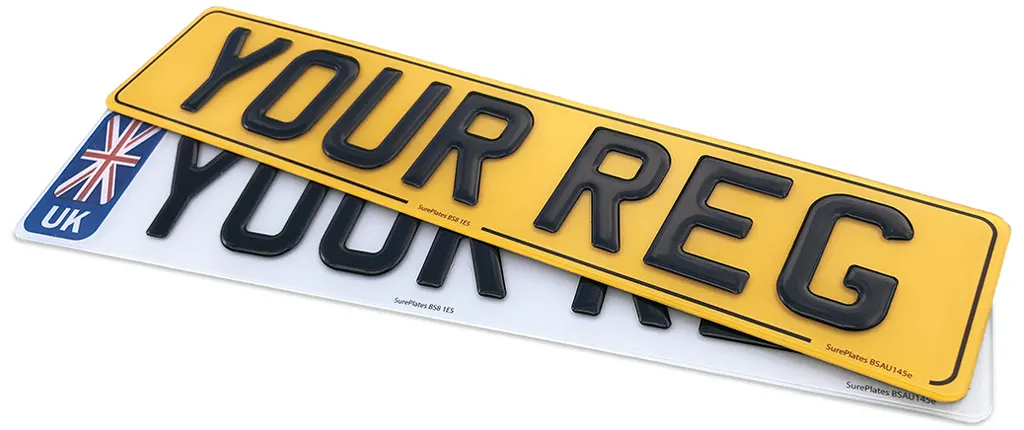 Why choose SurePlates?
Quality is our number 1 priority. We have spared no expense when it comes to making sure we produce only the highest quality products. So if you are not happy with your plates, you can return them for a full refund. We don't quibble. We accept returns within 14 days of receipt — guaranteed.
Speed is paramount. We dispatch orders the same day if they're in before 3PM.
Simplicity is a key focus in our business. We've made it easy for our customers to get what they need. Our number plate builder is so simple even a toddler could use it. You can build your plates in less than a minute. In just a few minutes more you can buy them and get back on with your day.
Peace of mind is something we all want when buying online. Our systems are mostly automatic, and production is both accurate and fast. We'll also send you an email at each step of your order, from receipt to production to dispatch.
More reasons to buy your gel plates from SurePlates
Guarantees are vital. We cover your plates for 2 years. If they fail, just get in touch and we'll replace them free of charge.
Options matter, even in something as simple as a number plate. Our plate builder is more versatile than any other on the market. Everything is customisable. We have even more options coming soon!
Expertise is the name of our game. As well as high quality production methods, our team has expertise in the law, the user experience, software development, and website usability, among other things.
Customer service that is second to none. We have friendly, helpful, and efficient staff on hand to assist with any issues you have. We resolve most queries within minutes.
We're giving away fixings with all orders. From 2022, your fixing kit comes with 9 sticky pads, 4 screws, and screw caps to match (2 x black, 2 x white, and 2 x yellow).
Build Your Number Plates Now
What else is available?
Looking for something other than a set of 3D gel number plates? We also have other plate types to choose from, including:
4D number plates
Printed number plates
4D gel number plates
Also available are a range of flags and borders (each with their own set of options) for a truly unique plate design. Not only do you get to customise your plates fully, you also get to see a true 3D, live and to-scale interactive preview of your plates before you buy.
On top of this, we also have a range of frames available including a premium chromed frame, a carbon effect frame, and a basic black frame. Rather than drilling holes in your vehicle, why not use a frame instead?
Fast dispatch
We dispatch orders the same day if they're in before 3PM. Delivery is then in 1 to 3 working days, depending on which shipping method you use. You can pick a faster shipping service if you need your plates quickly. Available shipping methods are:
Economy Signed For — Untracked with a signature on delivery. 2 – 3 days.
Tracked 24 — Fully tracked with proof of delivery. 1 – 2 days.
Special Delivery Guaranteed By 1 — Fully tracked 1 day service with proof of delivery. 1 day.
We'll send your tracking number (and a tracking link) by email once we've posted your plates. The courier used depends on which service you choose, but includes The Royal Mail, DPD, Hermes, and sometimes Parcelforce.
Shipping times are based on past data, as well as time of year. Delays are uncommon, usually only happening at busy times of year such as Easter or Christmas.
Only rarely does an order go missing, but we're happy to cover you with a replacement or a refund if it does. If your plates don't arrive within the stated time, then head over to our contact page and get in touch. One of our friendly support staff will take it from there.
High tech production
Production quality is essential to our operation, but so is speed. Because we have a need for swift output, we've made sure our production workshop is able to handle large amounts of printing — up to 1,200 plates per day.
Some of our equipment includes:
A UV flatbed printer
Several laser graphics printers
Thermal transfer printers
Several laser cutters
A vinyl cutter
Laminators
Our workshop also features several roll to roll laminators for making 4D digits. Two doming stations for creating digits for 3D gel plates also feature in our workshop.
Because we believe in a premium service, we use only the highest quality acrylic, no blended plastics or ABS. Our plates are also certified by Accelerated Weathering Laboratory as compliant to the British standard.
By the same token, we source the highest quality outdoor adhesives by 3M, and these are the only adhesives we use for our 3D digits (both gel and 4D) to ensure long lasting bonding (approx. 7 years).
Your questions — answered
Do you sell show plates?
Show plates are not number plates, so we don't sell them. Some suppliers sell illegal plates claiming they are show plates, but DVLA says the term "show plates" has no legal basis.
Neon / krystal plates are illegal because they have a coloured backing. They do not comply with either the current British standard BS AU 145e, or the previous standard BS AU 145d.
The police weigh in on the 4D number plate debate. Are they legal?
We've already discussed this, and the answer is a firm yes: 4D number plates are road legal. GOV UK also has an advice page settling the matter here: displaying number plates.
Here's yet another take on the subject by Sergeant Owen Messenger, who shared his thoughts on the topic.
How long does it take to make and dispatch my plates?
Normal processing times are a couple of hours. Our weekend period starts at 3PM Friday. If you order on a weekend, we'll dispatch your order on Monday. Orders are always assembled in less than half a working day.
Where can you dispatch?
We only make British number plates, so we service the UK and Northern Ireland. Shipping to NI may add a couple of days to your shipping time. We do not service Jersey or Guernsey due to different laws.
How do I know you're an approved number plate maker?
SurePlates is on the Register of Number Plate Suppliers (RNPS). Number plate makers must register with DVLA before they can make number plates.
Where can I see your reviews?
We've received hundreds of reviews from our customers, and our feedback speaks for itself. We are proud that our customers rate us so highly.
---
---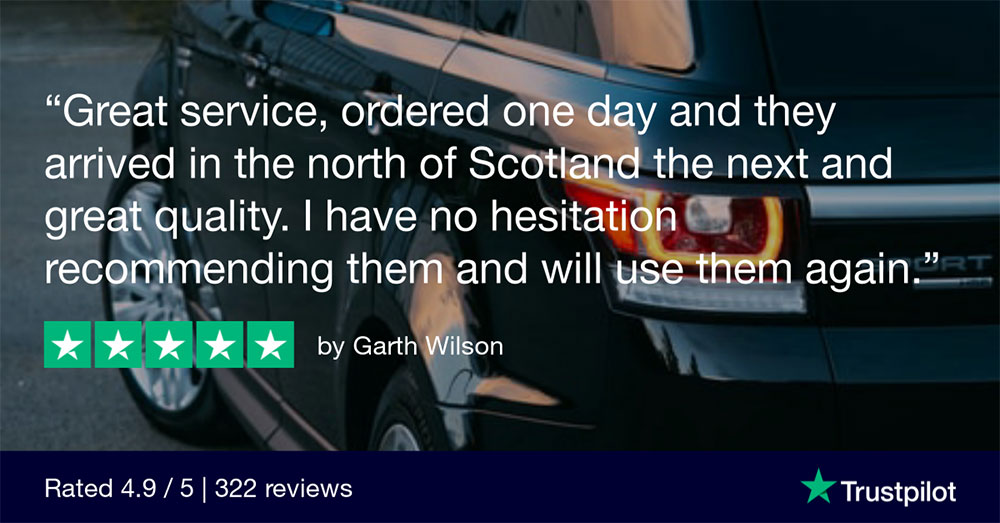 Conclusion
For such a simple product, there's plenty of room for personalising your 3D gel plates. Our plate builder provides more ways to customise your plates than any other on the market. Since only road legal plates are available, we guarantee you'll be getting a standards compliant product.
Our processing times are fast. A quick processing time of less than half a working day is available because our operation doesn't stop. Our business operates 7 days a week (but customer services are only available from Monday to Friday).
Because we've invested heavily in modernising our equipment with UV printers, laser graphics printers, and automated production methods, our operations are smooth and reliable. This allows us to offer a high quality service to each and every customer.
Build Your Number Plates Now